Watch the video to learn more about Everything DiSC Workplace
Everything DiSC Workplace® (English version) is DNV-GL certified as an occupational test tool.  It is EFPA compliant and to be used for development purposes.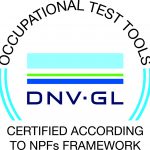 In-depth: The 20-page Everything DiSC Workplace® Profile provides real-world tips and practical strategies for building a better workplace. Everything DiSC Workplace® is a classroom training and personalised learning experience that can benefit every person in the organisation – regardless of title or position, department or function – in building more productive and effective relationships at work. It teaches participants to understand themselves and others, while learning to appreciate the different priorities, preferences and values each individual brings to the workplace.  With personalised insights and actionable strategies, participants learn how to adapt to the style of others, ultimately improving engagement, collaboration and the overall quality of the workplace.
Precise: Everything DiSC® Workplace uses adaptive testing—an interactive assessment process that tailors questions based on an individual's responses—to give participants the most precise DiSC style assignment possible.
Everything DiSC® Comparison Reports: Exciting follow-up reports that can be created for any two participants. Shows their similarities and differences on six behavioral continua. Great for on-boarding, new work groups, conflict management, and more! Unlimited access available with all Everything DiSC profiles.
Everything DiSC® Group Culture Report: Helps you determine the group's DiSC culture, explore its advantages and disadvantages, discuss its effect on group members, and examine its influence on decision making and risk taking. English only. Sold separately.
Everything DiSC® Team View: Provides an at-a-glance view of any group's individual Everything DiSC maps.
Workshops: These follow on from the assessments and are arranged separately.  You can buy the assessments online and discuss arrangements for the optional workshops with us.